Stock Chuwi VI8 Windows/Android image
1) downloaded free version from http://www.macrium.com/reflectfree.aspx as you guys suggested, currently in version 6
2) ran the installer, selected Free, and download location, let it download
(before hitting download you've got option to download just the installer or installer+different PE files, you can pick any, it will download what it needs
 later if it won't have all files; you do need to download 32bit if your OS where you're creating image is 32bit, and 64bit if OS is 64bit)
3) install Free edition
4) first run, it offers making Rescue media, do it (or if you've missed it go to menu "Other Tasks" - "Create Rescue Media")
5) make sure you create Windows PE 5.0 rescue media (Win 8.1 kernel), available under "Change PE Version" button to check & change
6) change "PE Architecture" to "32 Bit" as dicker182 already confirmed that works, allow it to download files from Microsoft if you haven't already done it
(if you're creating this USB rescue media on Chuwi it will automatically add drivers from it's OS install; I did it on another computer which is 64bit so drivers weren't compatible, but it worked fine even without any additional drivers)
7) once it's done downloading, mounting, extracting, copying etc pick: USB device (I've used 2GB stick in the end), and mark a checkbox for "Enable multiboot MBR/UEFI USB support", and click Finish

Note before step 7:
I had issues with USB sticks having previously made partitions which this software
 did not want to remove, and I couldn't remove it in Disk Management in Win OS, but you can do so from command line by using diskpart on Windows, just open an elevated Command Prompt (Admin) and run diskpart, and than commands as follows:
- list disk
- Note the disk number that corresponds to your USB drive (it should be obvious going by size)
- select disk X where X is the number from step before
- list partition - There should be one probably, numbered with "1"
- select partition 1
- delete partition
- exit
... Exit Command Prompt

Next, I've connected USB hub to USB OTG cable on Chuwi, connected USB mouse/keyboard, new bootable drive with Macrium on it, and one (almost) empty 16GB USB drive formatted as FAT32
Powered on Chuwi, pressed Esc few times untill it booted in boot menu, selected Boot manager
Selected "EFI USB Device (... flash disk)", pressed enter
once Macrium boots:
- Backup - Image Selected Disks
- make sure all partitions are selected !!
- as Destination select the empty USB drive
- Next - Finish - ... and wait for image creation to finish

Few things of note that I've learned in the process:
- when Macrium was installing and downloading WIM file(s), it had to restart download few times; this probably resulted in corrupted image, so if it fails - uninstall it and try again. It worked for me after that.
- before final step (Finish button), unplug all but mouse and destination USB drive, click finish, and unplug mouse as well; maybe it won't be needed in your case, but it was the only way for me that Macrium was starting to copy files, perhaps Chuwi did not have enough power for 2 USBs, and mouse and kbd, and USB hub all at the same time; either that or maybe using powered USB hub... unsure
---
 And finally, to be installed on your PC (another PC as your tablet to back) to create the USB drive bootable is going well, the little ingredient that makes the difference, the salt in your pasta, butter in your spinach, cherry on the cake ... I named ... the beautiful, the great, nay ... the huge, beautiful and indispensable Macrium Reflect Free (Version 5.3.7299) download here 32-bit version (for OS 32 bit) and here in 64-bit (for 64-bit), COMPUTER BILD on the site which offers a direct link to download rather than go through a downloader that will rot your PC with adware and other crap !! !!!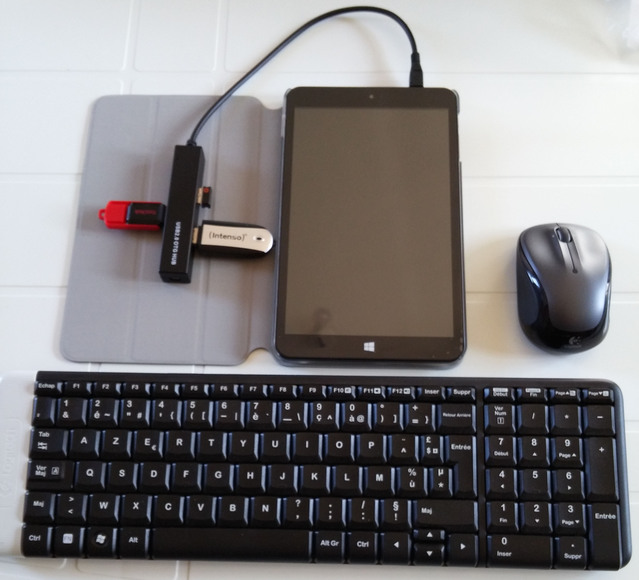 OH YEAAAAAAAH! 

To explain a bit, this is the only backup software / Restore I've found so far and allows to easily create a bootable disk on machines with 32-bit UEFI as the shelves are equipped with Windows 8.1 Bing (which is 32 bit), hence the mandatory UEFI 32-bit, although little used until then! 
A version 6 of Macrium Reflect just released (with interesting functions) and should be available soon in Free edition! 
Note that I have no vis-à-vis interest or Macrium Logitech! I am a simple user who wants to save you time and save money by showing you which products work well! This does not mean that there is no other software, hardware or resources to do the same thing but simply that it is the first simple and effective way I have found to do backups and restores sought here! 
FYI, I tried True Image 2014 and 2015 (software I use for a long time) but without success here. Ditto for Aomei Backupper and Clonezilla. 

Here's how: 
ATTENTION: I accept no responsibility for any problem encountered when you perform on your hardware or software manipulations listed in this tutorial! 
Manipulations given here should be used in an exploratory spirit with all the risks that entails! They are intended exclusively for persons fully aware of the risks qu'encourent hardware and software on which they will perform these manipulations because if mishandled from them or inconsistency of their hardware and software with the described method below, they may lose the definitive enjoyment of these hardware and software! 
These manipulations were tested exclusively on my tablet Chuwi Vi8 dualboot whose UEFI is CHUWI2.D86JHBNR01 Version! Differences in hardware and software can exist between two copies of the same brand and same model tablets which can lead to different behavior in response to the same manipulation! 
By performing manipulations on your hardware / software as described in this tutorial or inspired by him, you acknowledge full responsibility for the consequences this may have on your hardware or software. 

Step 1: Install Macrium Reflect Free (Version 5.3.7299) in 32 or 64 bits depending on your Windows OS on a PC other than your tablet. This is to create the bootable USB key. My advice for any new software that comes from an unknown source, or if you just want to test or use one time to install it on a virtual machine, what I have done here and everything worked without problem! 

Step 2: Plug your USB drive into the PC with Macrium Reflect and create the bootable: 
To do this, launch Macrium Reflect and select the "Other tasks" menu, under "Create rescue media" and select WinPE 5.0 and click "Next".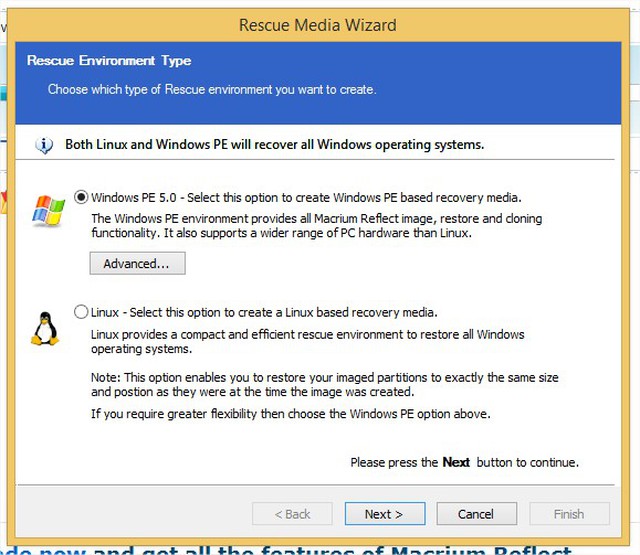 Then choose to build a 32-bit PE environment, select "PE Architecture 32-bit" with a default mode, then select "Default basic WIM." If you're on a PC with 64-bit Windows, the software will download the necessary ADK for Windows 32bits! Click "Next".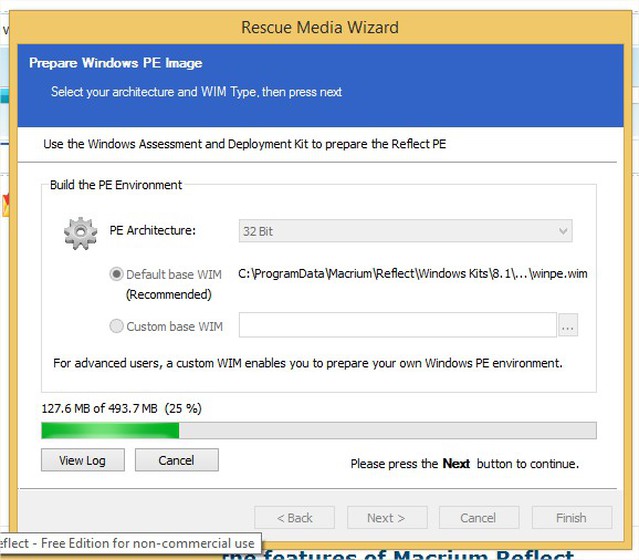 After the eventual downloading Select "USB Device," then the key you want to make it bootable, here, I took "E: USB Flash DISK (967.5MB)" and select "Enable multi-boot MBR / UEFI support" for better compatibility and click "Finish".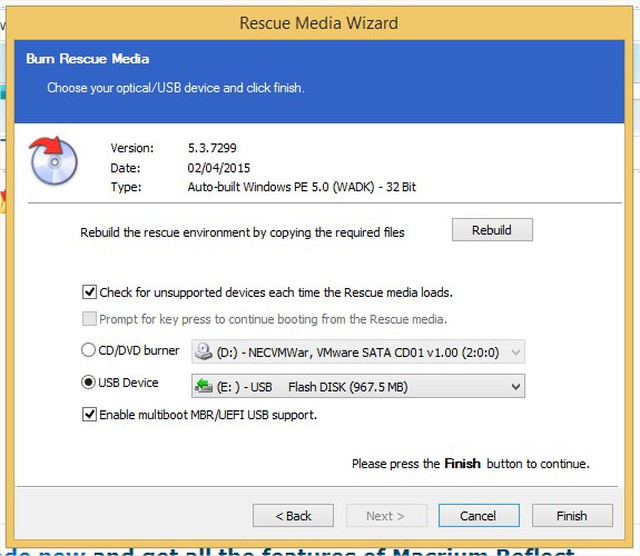 Wait until the operation ends and you get a beautiful drive bootable with backup software / simple restoration and convenient !!! 


Step 3: Connect the USB hub, the bootable USB drive, the USB key designed to accommodate the backup image (> 8GB and formatted NTFS), keyboard and mouse and press the tablet's power button by pressing "Escape" (ESC or ESC) key to open the UEFI. 

Step 4: Select the Bootmanager (2 supports).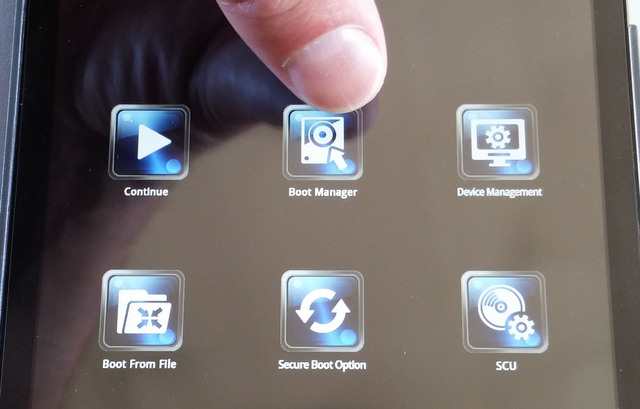 Step 5: Select "UEFI USB Device" to start the bootable drive with Macrium Reflect. You should see appear "UEFI USB Device" followed by the key name in parentheses if it is bootable and thus recognized as such.Here, my key is called "Intenso Business Line".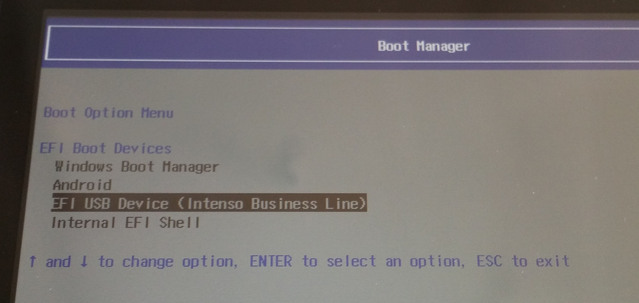 The tablet then boot and you see the following screens appear consecutively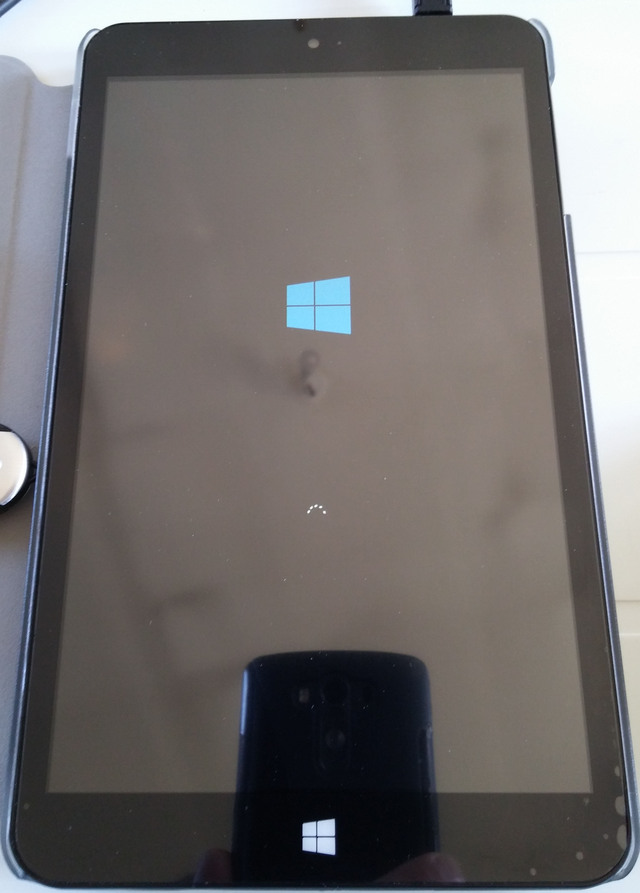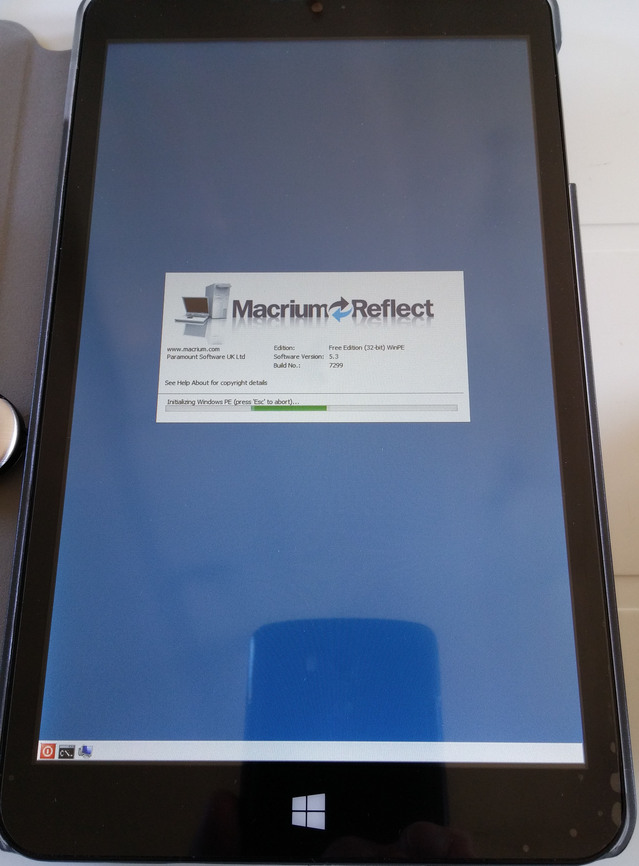 Step 6: Create the image of the tablet drive: 
Once in Macrium Reflect, select "Disk Image" tab. ATTENTION, in Macrium Reflect, you can not use the touch screen but only a mouse with GUI!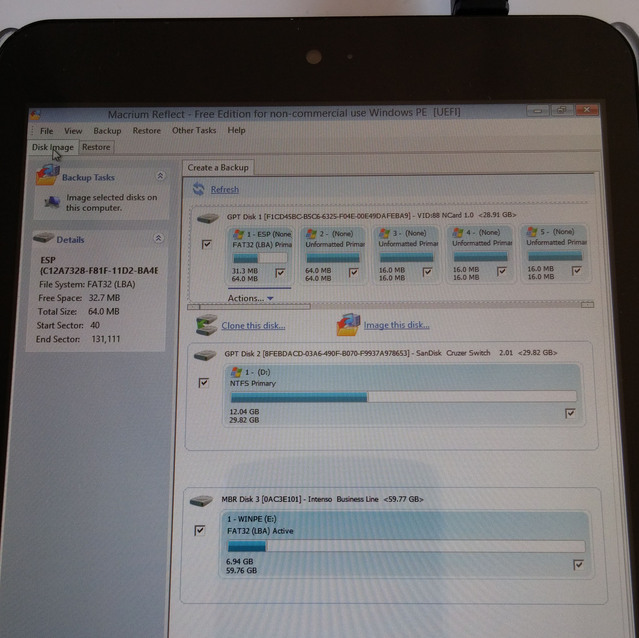 Select only the "GPT Disk 1" with all his scores (18 for my Chuwi Vi8) .Click "Picture this Disk" just below the disk to save.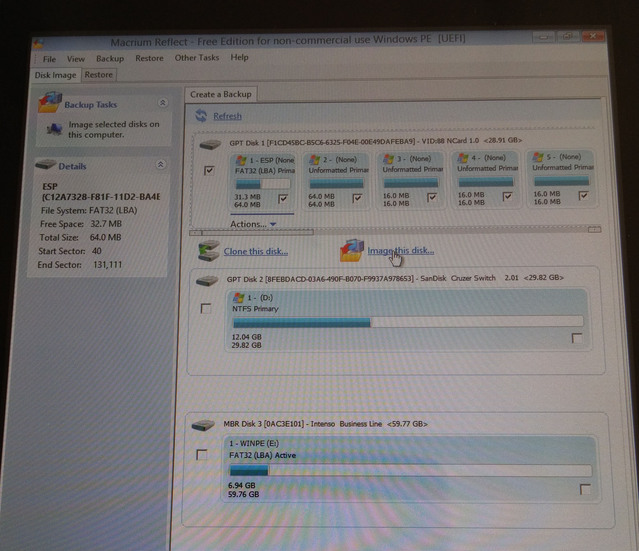 In "Destination", select "Folder" and NTFS formatted key to copy the disk image, here it is "Local Disk D:" and then "Ok"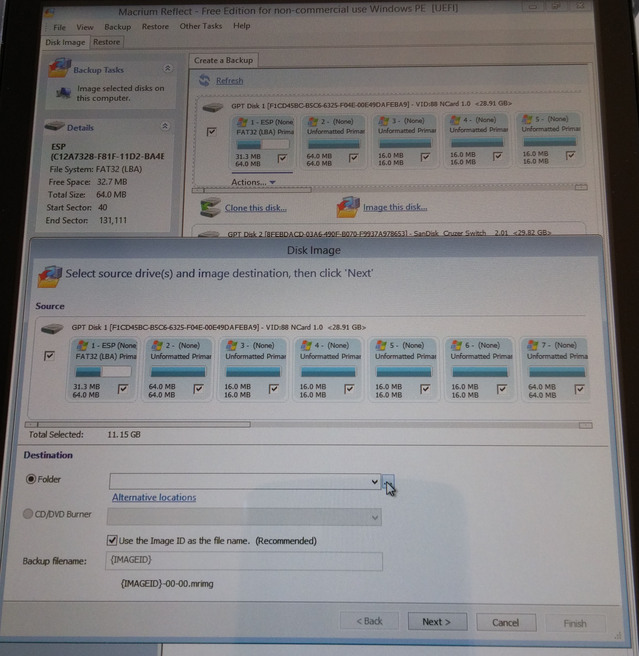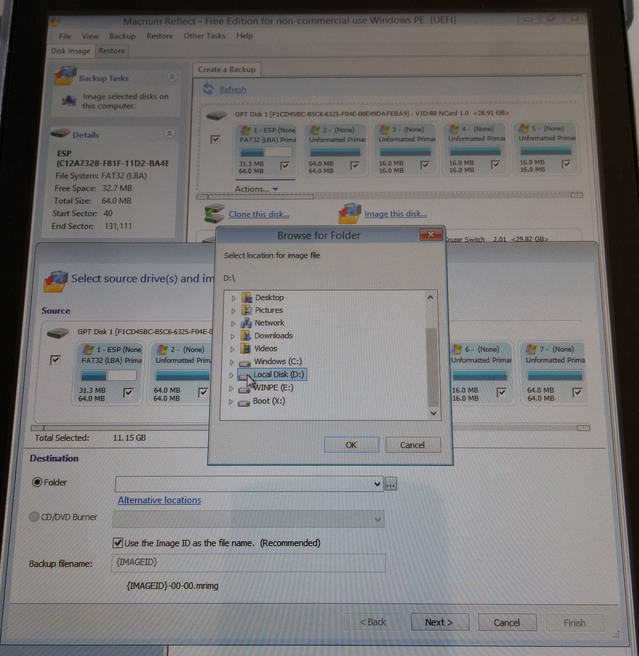 Click "Next"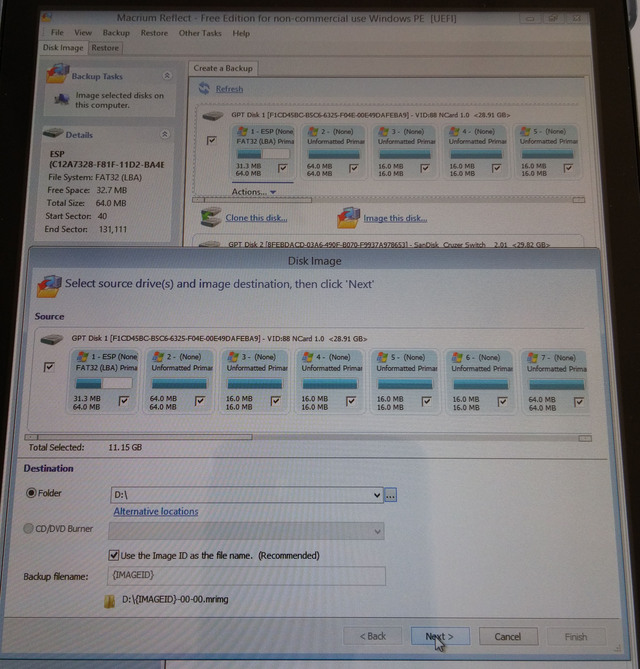 Click "Advanced Options" to set the backup 

 

In "compression", I selected "High" for the image to be the smallest in size. 
"Make exact year copy of the partitions" copy the disc bit for bit, including unused sectors (interesting to back a new tablet and restore it in the same condition for resale. This will rewrite over deleted files!). 
"Intelligent sector copy" copies only the areas used by the system. 
You choose !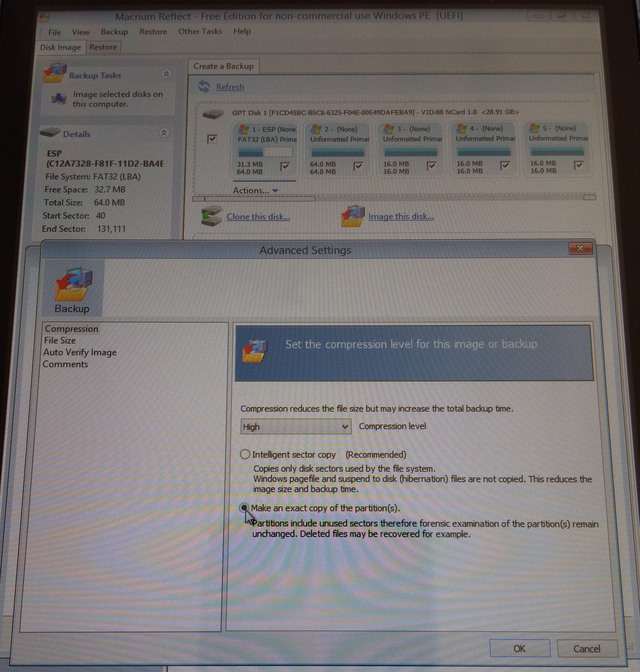 In "Auto Image Verify" I advise select "Verify backup file picture gold Directly after-establishment" for the image to be checked immediately to avoid disappointments when trying to restore an image that was already defective at the creation !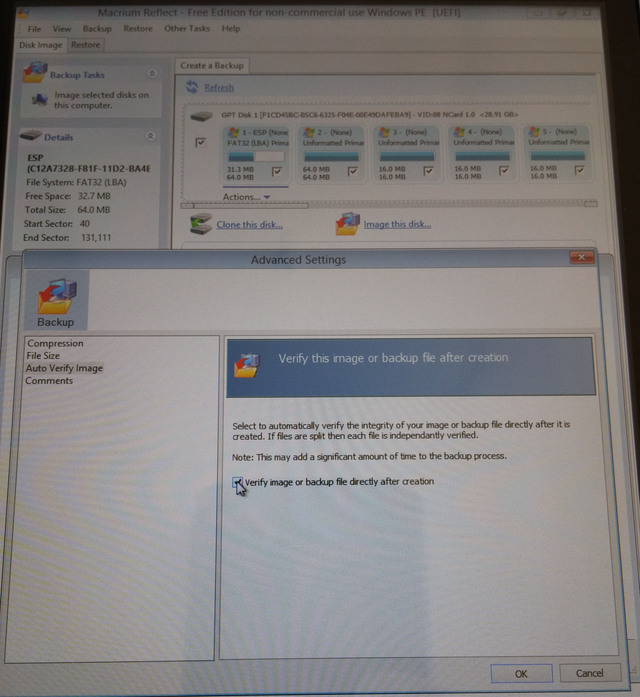 Then it is best to describe in a review, backup performed.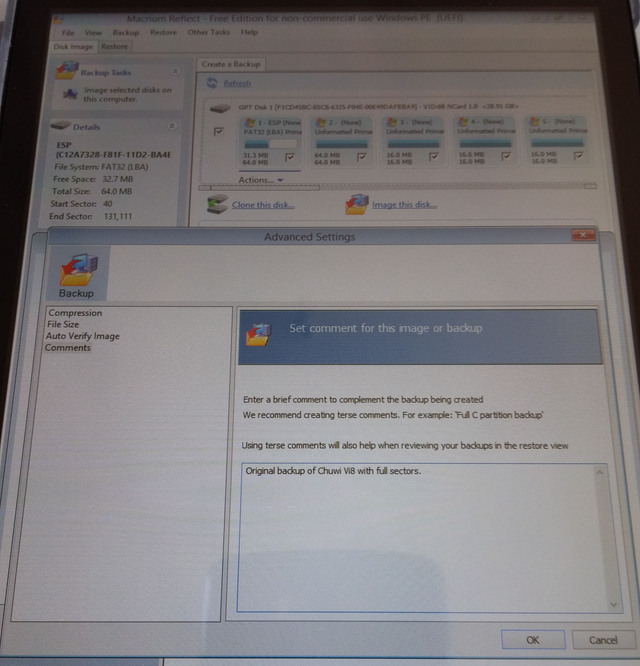 Click "Ok" 
Then "Finish" 

 

The backup is created and copied to the USB drive selected. 


And there is nirvana! 


With the maximum compression and according to the copy type ("areas used by the system" or "bit by bit") and the type of USB device used, it took me 35-55 minutes to backup! 

For cons, I have not had time to do a restore because I preferred to share my discoveries and create this tutorial before !!! 
So thank you to the person who will test the first restoration of the picture disc on their tablet and we will inform the results obtained (or no problems with solutions if possible and restore times obtained) !!!